The Key to Theosophy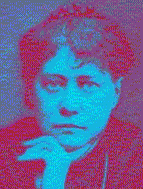 Helena Petrovna Blavatsky
1831 -1891
_______________________
The Key to Theosophy
By
Helena Petrovna Blavatsky
Who Are Those Who Know?
Q. Does this hold equally of ourselves as of others?
A. Equally. Aa just said, the same limited vision exists for all, save those who
have reached in the present incarnation the acme of spiritual vision and
clairvoyance. We can only perceive that, if things with us ought to have been
different, they would have been different; that we are what we have made
ourselves, and have only what we have earned for ourselves.
Q. I am afraid such a conception would only embitter us.
A. I believe it is precisely the reverse. It is disbelief in the just law of
retribution that is more likely to awaken every combative feeling in man. A
child, as much as a man, resents a punishment, or even a reproof he believes to
be unmerited, far more than he does a more severe punishment, if he feels that
it is merited. Belief in Karma is the highest reason for reconcilement to one's
lot in this life, and the very strongest incentive towards effort to better the
succeeding rebirth. Both of these, indeed, would be destroyed if we supposed
that our lot was the result of anything but strict Law, or that destiny was in
any other hands than our own.
Q. You have just asserted that this system of Reincarnation under Karmic law
commended itself to reason, justice, and the moral sense. But, if so, is it not
at some sacrifice of the gentler qualities of sympathy and pity, and thus a
hardening of the finer instincts of human nature?
A. Only apparently, not really. No man can receive more or less than his deserts
without a corresponding injustice or partiality to others; and a law which could
be averted through compassion would bring about more misery than it saved, more irritation and curses than thanks. Remember also, that we do not administer the law, if we do create causes for its effects; it administers itself; and again, that the most copious provision for the manifestation of just compassion and mercy is shown in the state of Devachan.
Q. You speak of Adepts as being an exception to the rule of our general
ignorance. Do they really know more than we do of Reincarnation and after
states?
A. They do, indeed. By the training of faculties we all possess, but which they
alone have developed to perfection, they have entered in spirit these various
planes and states we have been discussing. For long ages, one generation of
Adepts after another has studied the mysteries of being, of life, death, and
rebirth, and all have taught in their turn some of the facts so learned.
Q. And is the production of Adepts the aim of Theosophy?
A. Theosophy considers humanity as an emanation from divinity on its return path thereto. At an advanced point upon the path, Adeptship is reached by those who have devoted several incarnations to its achievement. For, remember well, no man has ever reached Adeptship in the Secret Sciences in one life; but many
incarnations are necessary for it after the formation of a conscious purpose and
the beginning of the needful training. Many may be the men and women in the very midst of our Society who have begun this uphill work toward illumination several incarnations ago, and who yet, owing to the personal illusions of the present life, are either ignorant of the fact, or on the road to losing every chance in this existence of progressing any farther. They feel an irresistible attraction
toward occultism and the Higher Life, and yet are too personal and
self-opinionated, too much in love with the deceptive allurements of mundane
life and the world's ephemeral pleasures, to give them up; and so lose their
chance in their present birth. But, for ordinary men, for the practical duties
of daily life, such a far-off result is inappropriate as an aim and quite
ineffective as a motive.
Q. What, then, may be their object or distinct purpose in joining the
Theosophical Society?
A. Many are interested in our doctrines and feel instinctively that they are
truer than those of any dogmatic religion. Others have formed a fixed resolve to
attain the highest ideal of man's duty.
__________________________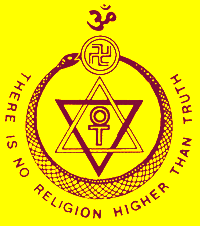 Find answers to more questions
with these Theosophy links
Dave's Streetwise Theosophy Boards
The Theosophy Website that Welcomes Absolute Beginners
If you run a Theosophy Study Group, please feel free
to make use of the material on this Website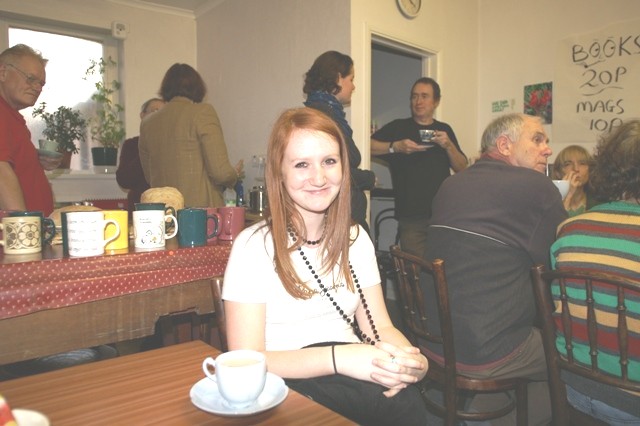 Cardiff Theosophical Society meetings are informal
and there's always a cup of tea afterwards
The Cardiff Theosophical Society Website
The National Wales Theosophy Website
This is for everybody not just people in Wales
Theosophy Cardiff's Instant Guide
General pages about Wales, Welsh History
and The History of Theosophy in Wales
Independent Theosophy Blog
One liners and quick explanations
About aspects of Theosophy
H P Blavatsky is usually the only
Theosophist that most people have ever
heard of. Let's put that right
Lentil burgers, a thousand press ups before breakfast and
the daily 25 mile run may put it off for a while but death
seems to get most of us in the end. We are pleased to
present for your consideration, a definitive work on the
subject by a Student of Katherine Tingley entitled
An Independent Theosophical Republic
Links to Free Online Theosophy 
Study Resources; Courses, Writings, 
No Aardvarks were harmed in the
The Spiritual Home of Urban Theosophy
The Earth Base for Evolutionary Theosophy
Classic Introductory Theosophy Text
A Text Book of Theosophy By C W Leadbeater
What Theosophy Is  From the Absolute to Man
The Formation of a Solar System  The Evolution of Life
The Constitution of Man  After Death  Reincarnation
The Purpose of Life  The Planetary Chains
The Result of Theosophical Study
An Outstanding Introduction to Theosophy
By a student of Katherine Tingley
Elementary Theosophy  Who is the Man?  Body and Soul   
Body, Soul and Spirit  Reincarnation  Karma
Preface    Theosophy and the Masters    General Principles
The Earth Chain    Body and Astral Body    Kama – Desire
Manas    Of Reincarnation    Reincarnation Continued
Karma    Kama Loka    Devachan    Cycles
Arguments Supporting Reincarnation
Differentiation Of Species Missing Links
Psychic Laws, Forces, and Phenomena
Psychic Phenomena and Spiritualism
Quick Explanations with Links to More Detailed Info
What is Theosophy ? Theosophy Defined (More Detail)
Three Fundamental Propositions  Key Concepts of Theosophy
Cosmogenesis  Anthropogenesis  Root Races  Karma
Ascended Masters  After Death States  Reincarnation
The Seven Principles of Man  Helena Petrovna Blavatsky
  Colonel Henry Steel Olcott William Quan Judge
The Start of the Theosophical Society Theosophical Society Presidents
History of the Theosophical Society  Glossaries of Theosophical Terms
History of the Theosophical Society in Wales
The Three Objectives of the Theosophical Society
Explanation of the Theosophical Society Emblem
Karma  Fundamental Principles  Laws: Natural and Man-Made  The Law of Laws 
The Eternal Now  Succession  Causation The Laws of Nature  A Lesson of The Law
  Karma Does Not Crush  Apply This Law  Man in The Three Worlds  Understand The Truth
Man and His Surroundings  The Three Fates  The Pair of Triplets  Thought, The Builder
  Practical Meditation  Will and Desire  The Mastery of Desire  Two Other Points
  The Third Thread  Perfect Justice  Our Environment  Our Kith and Kin  Our Nation
The Light for a Good Man  Knowledge of Law  The Opposing Schools
The More Modern View  Self-Examination  Out of the Past
Old Friendships  We Grow By Giving  Collective Karma  Family Karma
National Karma  India's Karma  National Disasters
Try these if you are looking for a
local Theosophy Group or Centre
UK Listing of Theosophical Groups